Content creation is already a huge industry (and growing) and it's for a good reason. For instance, the Content marketing industry is projected to hit $412.88bn by 2021
Besides content marketing having a greater Return on Investment, (ROI), it's clear that people are consuming digital content now than before.
Unlike the olden days where if you wanted to decide between the two sets of white and black TV, you would visit your rich uncle and have a conversation, today, those decisions are being sourced online. Influenced online. And even made online.
Actually, according to research by Salesforce and curated by Oberlo: 85% of consumers do online research before purchasing a product.

Content marketers and VPs of marketing know that content is the engine that powers businesses.
What does this mean for content creators?
You have a growing market: The demand is increasing, and so does competition. As a content creator, you have a reliable market to build your business on. Blogging now has become a thing, and companies are even outsourcing blog management services to help maintain their blogs with relevant and useful content.
You have a growing challenge of creating content that converts. Copywriting is slowly being integrated with content marketing. Before, the two were worlds apart. If you wanted content for a sales page, you would hire a copywriter, and for blog posts and simple pages, a content writer would do. Slowly, every content being published on the web today is slowly aimed at driving conversion. Thus, employers are also looking for content writers who can write persuasively without being promotional. Professional copywriting will still be used for sales pages though.
You need to reposition yourself. Today, there are a number of terms that almost mean the same thing. Think content writer, content developer, freelance writer, freelance blogger, web content, and content developer. Even though these groups do almost the same tasks, they have different perceived value. If you sell yourself as a content developer, you can easily get away with charging more than if you are a freelance writer. However, as a content developer you also need to meet that perceived value to get more re-hires. In other words, your content strategy should drive results. If you know an industry well, then you are more fit as a content developer.
Monitoring how Content Clients Search the Web
What queries are they making on Google?
By knowing how content clients 'query you' online, you will be in a better position to direct them to come to you, by providing content that meets their search intent. Thus, you need to know what search terms are they using.
And this not only means knowing the general terms such as content writer, but niche terms. Do they search for 'Real estate writer?' for instance, if they are in a Real Estate business? Use those terms to optimize your service pages or your portfolio website.
If your freelance website SEO site title still reads, Your Name- Home, then you are not ready for the next evolution of digital content. In this evolution, freelance writers who rank for the niched keywords for content writers will welcome more prospects.
This is important.
You may have a classic website with powerful testimonials, but they got to come to you to see those testimonials.
Quick tips for SEO titles for Freelance Writers:
Name + Title: e.g Mark Walters- Freelance writer for hire
Brand + Service: EvolvingContent- Content Strategy that Works
Name +Niche + Service: Kristin A. – SaaS Content Writer
The point is, know how your prospects search for the services that you are offering. Use tools such as Keyword Planner, Semrush, Ahrefs and Google autosuggest to find related terms.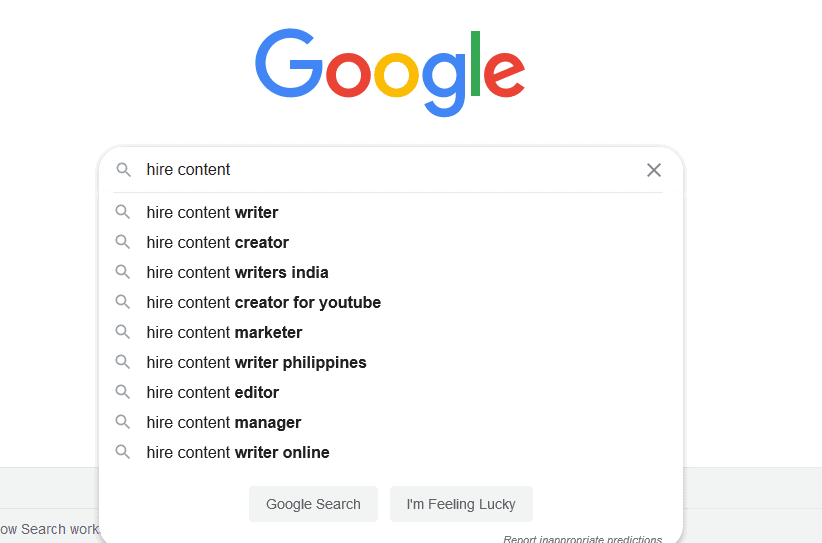 By constantly monitoring the search queries that people use to find your services, you will be able to adjust accordingly. For instance, at the moment, you will notice that, while 'content writer' queries have been with us for a while now, new terms such as content development and content developer are cropping up.
As a result, you will need to learn a few skills that will help you create content that converts. These skills include:
subtle selling,
social selling,
psychology marketing etc.
Expectations for 'content writer' are more likely to differ from those for a 'content developer'
Well, you need to know that companies prefer going to individuals that write about their industries or find potentials in freelance marketplaces such as Upwork or post jobs in niche job boards.
Thus having your own website that is regularly updated is a must for freelance digital creators
Time to Go Niche Specific
Companies are no longer rushing to get cheap content from agencies that seem to work with every niche they are presented with. Sadly, content mills aren't here to stay. So if you are in digital content creation for the long haul, then you have to think forward.
This is because marketers are starting to appreciate that to get sales, you need powerful content and a drafted content strategy that is informed by the industry's stats.
Powerful content is written by experts who know the industry's ins and outs.
So you need to choose a niche and upskill on it. Whether it's AI, children's health, Marketing, SEO, parenting, Cryptocurrency, future of work, you have to get good at it.
Quick ways to upskill.
We have a whole post on upgrading your skillset, but quick tips to get you started:
Welcome the culture of always learning: You will never know enough. Endevour to learning something new about your industry every day.
Get Intentional: Life gets in the way sometimes. If you don't have a clear and laid-out map of your upskilling journey, you will get distracted. For me, I always commit to taking a short class every morning before starting my 90 minute focus block. I love Skillshare classes because I can find interesting instructors on almost any course. Whether it's affiliate marketing, counselling, writing or even coding.
Listen to Podcasts: Find interesting podcasts and subscribe to them. This way, you will get insights while going about your day's business.
Now, you still need to position yourself to get known that you are a niche freelance writer. There are many ways to do so including:
Having a focused portfolio site. If you are a health and fitness freelancer, then make sure that your SEO title hints on this, and the portfolio features your best works in the industry.
Only guest post in the niche specific websites. You only have so much time to create and distribute content. So, make sure that they are being seen by your potential clients. Plus, getting backlinks from niche websites will boost your site's authority and help you rank
Have your niche clearly come out in your author bio and freelance marketplaces profiles in places like Upwork and Fiverr
The Need for Original research Freelancers
Original research is also likely to see an upsurge as new brands seek to establish authority. With more SEO tools that can cut the research time by nearly 50%, content creators will be able to deliver original research content for companies at premium pricing, faster.
As a content creator, you will need your sample size to analyze, a working method, and a model on who to exclude. For instance, you can track how people use social media for business, the marketing tools they employ, and what social networks are used for what, and then report your findings.
To have a clue, see this original research by Backlinko on how they analyzed 11.8 Google Search Results to understand Google search ranking.
Why companies will pay more for original research?
Simple.
Original research, aside from entailing lots of work, often generates traction and social buzz. For instance, the research above has been shared over 13000 times and linked to by giants in the industry.
Content and AI Tools
With the emergence of powerful AI writing tools like Jarvis and Copysmith, one wonders whether content developers are slowly being replaced. The truth is, these writing assistants are here to stay, and out of curiosity many marketers are trying them out.
While for a few days of using AI tools one might feel like they can accomplish much more and even create better content than what they get from human writers, this sensation doesn't often last. This is because preparing an AI-generated copy for publication seems to take longer as there are several mistakes to be corrected. And we aren't talking just grammar, but idea flow, data accuracy and content usefulness.
With time these tools will get better, but cannot fully replace human writers. Instead, these tools will just be some other tools that writers add to their arsenal, much like Grammarly, Copyscape and keyword research tools.
Videos That Tell a Compelling Story
Needless to say, the future is visual.
We will consume videos that tell a story more naturally. As a digital video creator, your main challenge will not be hinged on using the camera, but rather your innate ability to tell a story that resonates in a way that one wants to listen through
The point is, there is a huge industry booming up, and you have to get ready for it.
You may also have to rethink how you package your services as a digital creator Is it article writing, content development, content marketing, brand storytelling, conversation marketing?
Are you a blogger or content developer?
Tell us what you think about the future of digital content creation in the comments section.